Discover more from Go Long
Humanizing pro football journalism. Profiles, Q&As, podcasts and penetrating deep dives that capture the spirit of the sport.
Over 16,000 subscribers
Week in Review: On to Pittsburgh for Kenny Pickett vs. Jordan Love
Peak Rodgers vs. Peak Big Ben this is not, but both offenses could use a breakout game. We'll be there.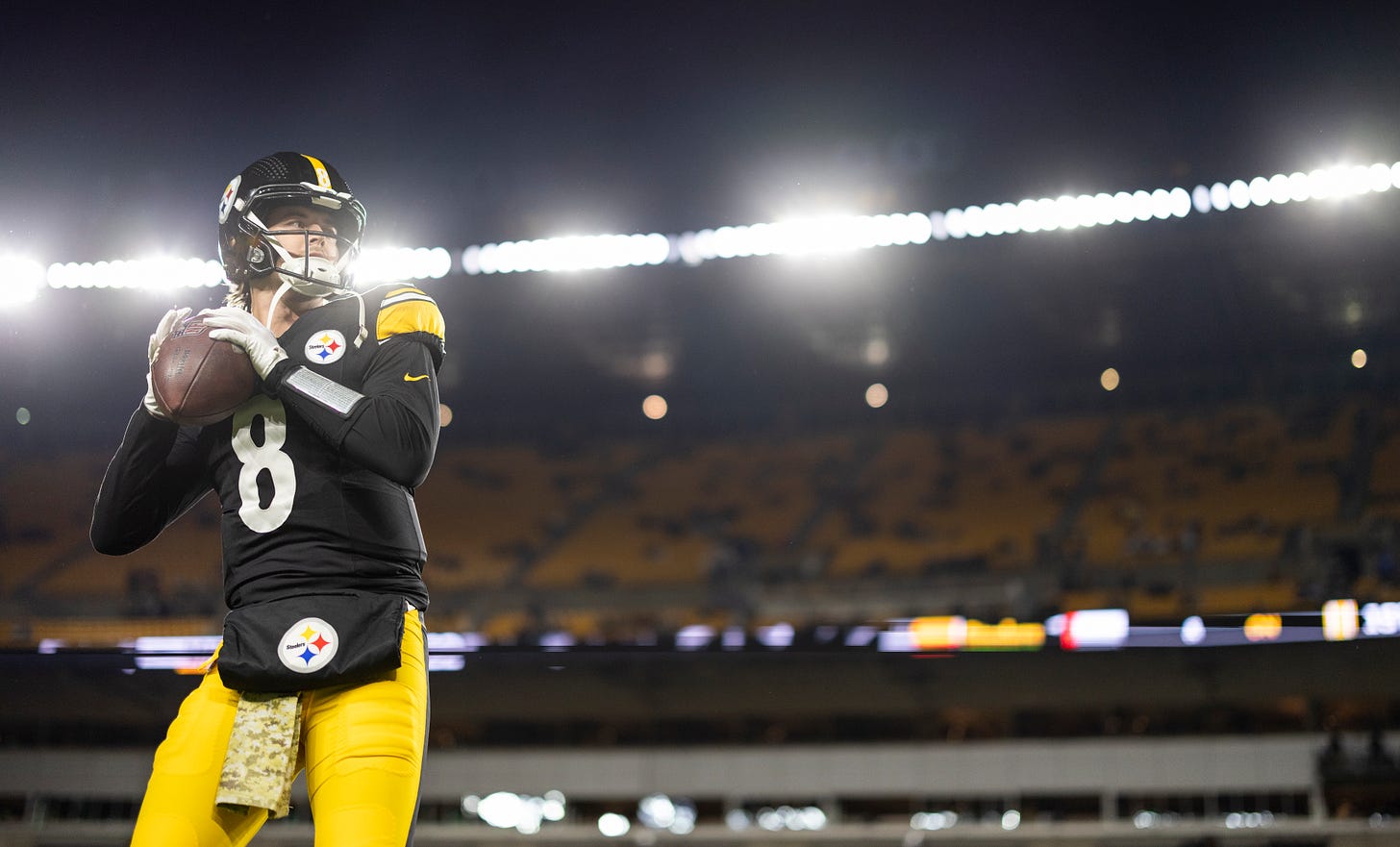 Both offenses — both quarterbacks — need this one. Whereas the Pittsburgh Steelers (5-3) have found ways to grime out victories through deafening "Fire Canada" chants, the Green Bay Packers (3-5) put themselves in a hole.
It's mid-November.
Pressure's about to ramp up across the NFL.
This Super Bowl XLV rematch is massively important for both teams, so Go Long will be on-hand at Acrisure Stadium.
Kenny Pickett's owns a 108.2 passer rating in the fourth quarter — no accident. It's those other three quarters that keep giving the second-year QB trouble, hence his 75.3 rating the first three quarters. If the Steelers offense can find a way to turn the lights on for a full game, they're AFC contenders. The defense is that special. Especially T.J. Watt. (A big if, of course.)
The Packers' losing streak ended at four games with a 20-3 win over the Matthew Stafford-less Los Angeles Rams last week. Jordan Love has nine more games to prove he's the team's long-term answer. It's never been perfect around the 2020 first-rounder but, as Brett Favre said, more "chicken salad" out of "chicken shit" is welcomed. We'll be on the lookout for those much-needed special throws.
Be sure to follow our Gameday Chat all day on your browser or inside the Substack app. Always a fun time. Rant, rave, riff.
Here are the links from the week below.
Joe Theismann believes in Sam Howell, and explains why. I also chatted with Anthony Boone, who has been Howell's QB coach since his freshman year of high school. Bob McGinn dissects the Packers' win over the Rams on the Ty & Bob Pod with a stroll down Media Guide Memory Lane. Jim Monos, the Buffalo Bills' former personnel director, explains why the offense is not the problem in Orchard Park. Gary Myers is phenomenal reliving stories from his book, "Once a Giant." And you can also catch my column from Cincinnati.
Thank you for supporting Go Long.