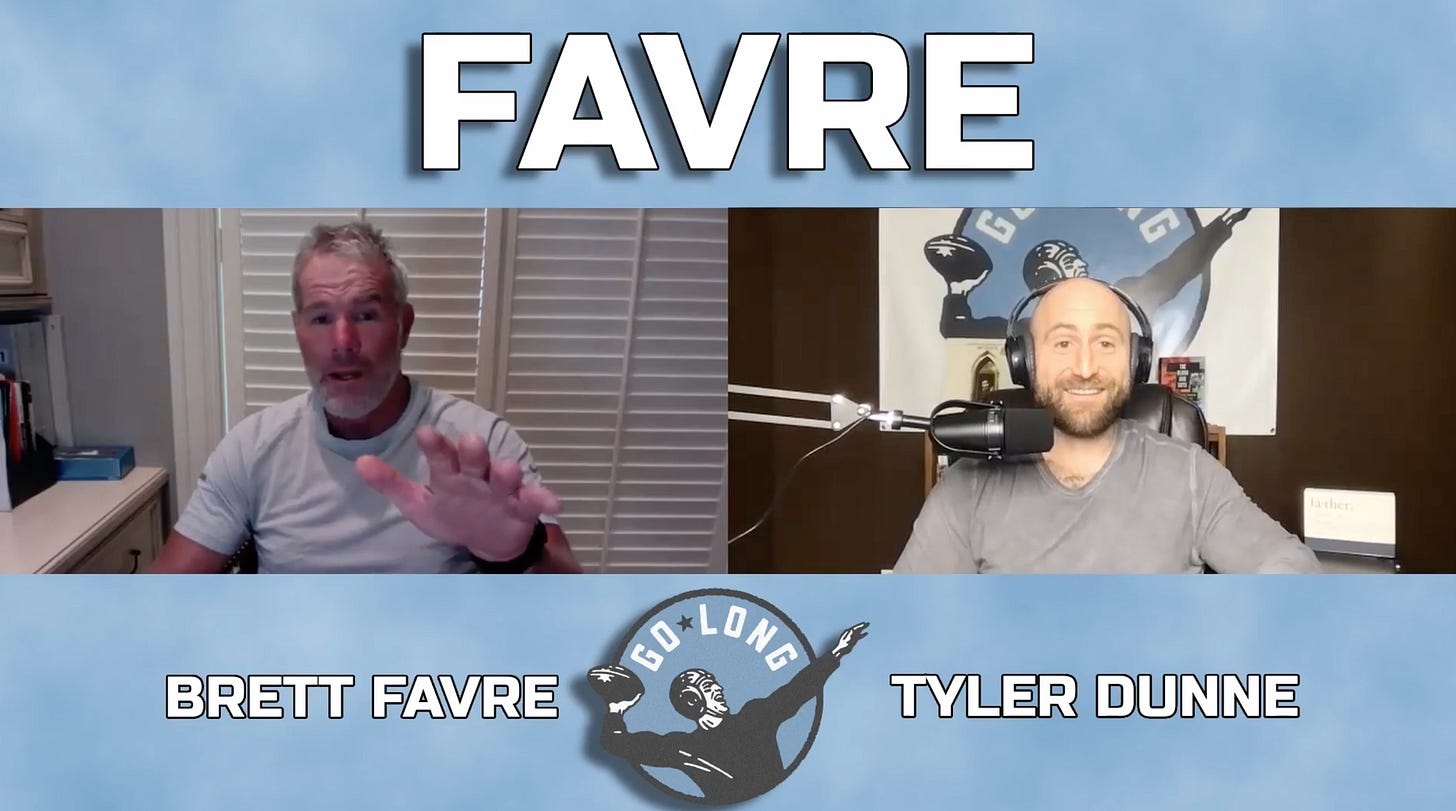 These are bizarre times in Green Bay. After three decades of sublime quarterback play and perennial contention, the future is a total unknown.
The 2023 Packers are 2-5 and, now, Jordan Love has 10 games to prove he's the quarterback of the future. Pressure's heating up for all involved: GM Brian Gutekunst, head coach Matt LaFleur, Love and a green-as-grass offense.
So, let's check back in with the player who revitalized the franchise itself.
On Episode 4 of "FAVRE," three-time MVP Brett Favre examines the state of the organization, and a lot more:
The problems in Green Bay run deep. What does he see?

How is Love performing? Favre knows seeing an element of "razzle dazzle" is important… even if the deck's stacked against the QB.

The challenge of trying to win with so much youth. Favre knows he was lucky to have Sterling Sharpe at wide receiver to begin his Packers career. Frank Winters, too. Any vet at any position can go a very long way.

Why the 54-year-old Favre has more desire to train than he ever has in his life. (But, no, he isn't mounting a comeback.)

How Favre knew Doug Pederson would be a great NFL head coach.

His relationship with his father. He never heard "I love you" or "I'm proud of you" from his Dad. What effect did this tough love have on Favre as a kid? Today?

His relationship with his daughters. He's been open to both about his addiction to alcohol and pain pills.

Connecting with the fans on a deeper level and why this meant more to Favre than any statistic, any accolade.
VIP members at Go Long can join our recordings to ask Favre questions. Upgrade here to our founding tier for this access, a Go Long sweatshirt and a copy of "The Blood and Guts: How Tight Ends Save Football."
Audio of "FAVRE is above with video below.
---
Go Long is completely independent, and strives to cover pro football through a longform lens. Subscribers can access all stories and all podcasts.
Thanks to all for joining our community.
---
Previous episodes of "FAVRE" below:
Ep 1: Reliving an unforgettable moment in NFL history
Ep 2: Bar fights, throat-slashes and the car crash that could've killed him