Discover more from Go Long
Humanizing pro football journalism. Profiles, Q&As, podcasts and penetrating deep dives that capture the spirit of the sport.
Over 16,000 subscribers
'Sam can really be the guy in Washington'
Joe Theismann believes in Sam Howell. Should the Washington Commanders?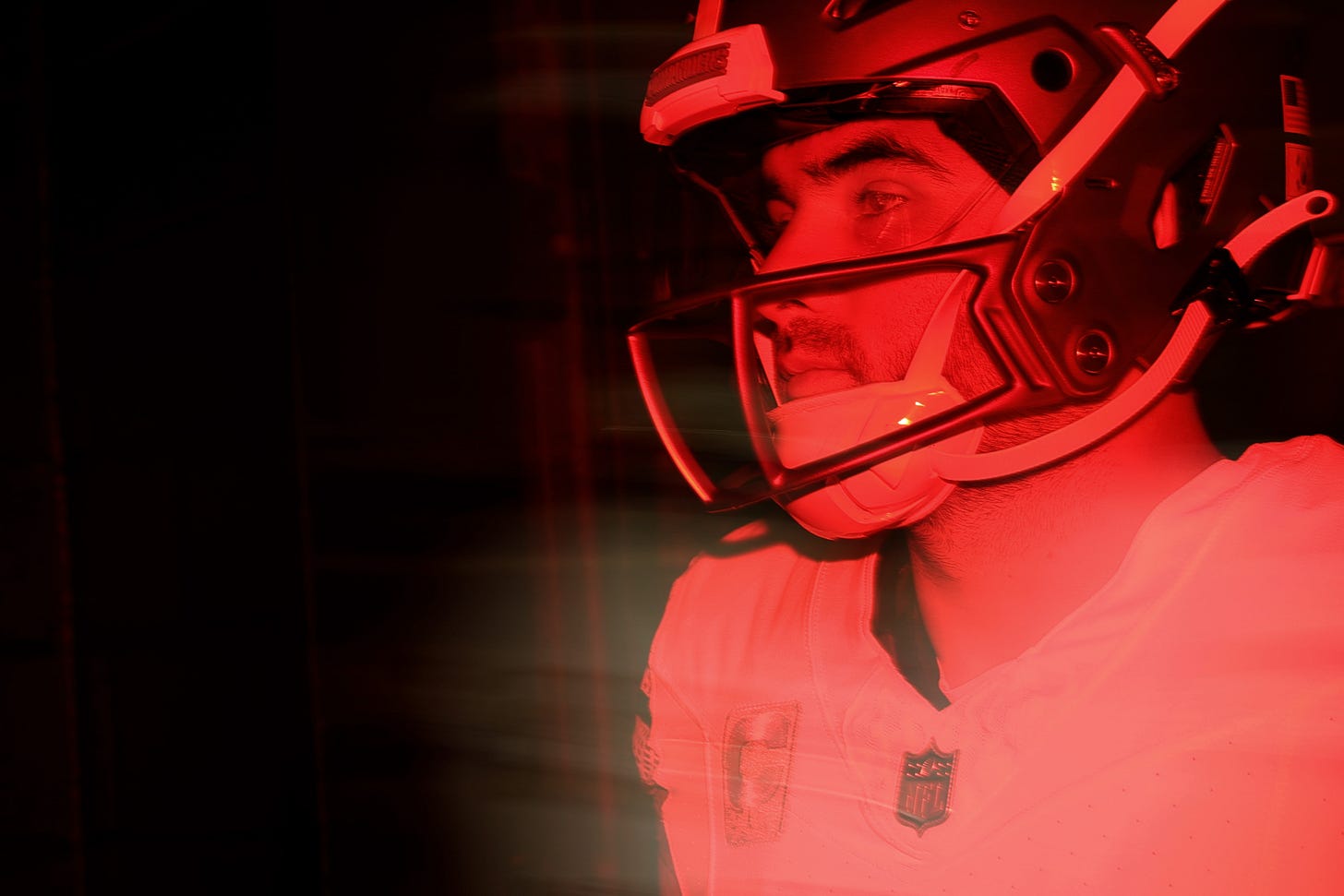 For four decades, Washington's football team has teased and tortured its constituents.
Quarterbacks have been anointed.
Quarterbacks have busted out in every conceivable fashion.
Since Joe Theismann's career ended at the hands of Lawrence Taylor in 1985, the Redskins-Football Team-Commanders have fielded 40 different starting quarterbacks in 38 years. A statistic at the tip of Theismann's tongue. Nobody understands this curse quite like the '82 Super Bowl Champion and '83 NFL MVP Theismann, who went 77-47 as the starter and is still the franchise's all-time leading passer.
So, no, he does not choose these words lightly. He's seen this organization fail at QB repeatedly. First-rounders (Heath Shuler, Patrick Ramsey, Jason Campbell, Dwyane Haskins) flame out. One transcendent Rookie of the Year (RGIII) shatters his knee. One fourth-rounder in that same class (Kirk Cousins), screaming "You like that?!" supplies brief hope and leaves in free agency. One Eagles great (Donovan McNabb) is a washed shell of himself. Gus Frerotte sprains his neck headbutting the back wall in the end zone and, well, let's not discuss Alex Smith's gory leg.
A franchise defined by chaos is now quarterbacked by the unheralded 144th overall pick in the 2022 NFL Draft: Sam Howell.
"I think Sam," Theismann says, "can really be the guy in Washington."
Everyone in Washington grasps the stakes. Out is Dan Snyder — hallelujah. In is Josh Harris. And after purchasing the club for a record $6.05 billion, this new ownership group has gargantuan decisions to make across the entire organization. This entire 2023 season has been a year-long job interview with each week warranting intense scrutiny through a long-term lens. The calculus behind any successful pro football team is simple: Stable, hands-off ownership. Synced-up head coach and GM. Talented QB. In shipping off Chase Young and Montez Sweat for draft picks, it's clear the Commanders (4-5) are a team thinking of the future and the quarterback who told us he aims to be the greatest ever is making a strong case that he deserves to be central to that future.
The owners' first decision into 2024 may be an easy one: Sticking with Howell.
Hit more than any QB in the NFL, all he's done all season long is continuously dust himself off to make plays.
"Where you're picked is just a number," Theismann says. "Joe Montana was a third-round pick. Tom Brady was a sixth-round pick. It doesn't matter where you're picked. Do the stars align for you to be granted the opportunity to be able to seize the moment? And that's what Sam's doing."
---
Go Long is your home for independent longform journalism in pro football.
Paid subscribers can access all stories, all podcasts, all threads.
New here? We'd love to have you join our community.
---
The death of quarterback groupthink was a welcomed development this past offseason. NFL front offices had an epiphany that, in fact, they do not need to bet everything on a Top 10 pick in the draft to win. For every Joe Burrow, every Trevor Lawrence, there are just as many failures. As noted in our piece on the top picks this fall, 14 of the 28 quarterbacks taken in the first 10 picks since 2009 have busted out. All grifters penning mock drafts this time of year would love for you to believe the answer to all that ails your beloved franchise is waiting in the Mystery Box. Indeed, the pursuit of a franchise quarterback isn't as high-tech as NFL teams lead us to believe. Rather, a scene straight out of that epic Family Guy scene: "A boat's a boat. But the mystery box could be anything. It could even be a boat!"
A handful of teams decided to blaze their own quarterback path.
The Falcons moved forward with Desmond Ridder. He's been benched.
The Giants ponied up for Daniel Jones. He injured his neck, tore his ACL and the Giants' season has been terrifying from Drive No. 1.
The Packers developed Jordan Love for three years before giving the green light. We'll give this a "TBD." (Side note: We'll be on hand for Packers-Steelers this Sunday.)
One or two of these teams thinking for themselves were bound to find their quarterback. The Commanders are sitting prettiest here at the midway point. They rolled with the 76th highest-paid quarterback in the NFL this season, scooped up Bieniemy and, OK, it hasn't all been pretty. Players complained about Bieniemy's coaching methods in camp and the 37-3 loss to the Buffalo Bills was a horror show. But this franchise in total transition stumbled upon a quarterback worth keeping.
No quarterback has been smacked around more than Howell. He has been sacked 44 times this season, 13 more than any other QB. At this rate, he'll set the NFL record. Former No. 1 overall pick David Carr was sacked 76 times in 2002, another 68 times in 2005, and his confidence was crushed beyond repair. Meanwhile, Howell only improves. His 2,471 passing yards rank second in the NFL, ahead of guys like Josh Allen, Patrick Mahomes and Jalen Hurts. He's completing 66.6 percent of his passes, damn good for a quarterback starting for the first time.
Sack to sack to sack, Howell never became skittish or squeamish in the pocket. He trended the opposite direction. It all appeared to harden him. Such resiliency caught the eye of Theismann, who's quick to point out that "sacks" don't come close to explaining the punishment.
Howell has been hit, too. Twenty-seven times alone in losses to Buffalo and the New York Giants.
"He's a tough guy," Theismann says. "Eric Bieniemy is learning about Sam Howell. Sam Howell is learning about Eric Bieniemy's offense. This is truly a process. I see Sam growing more and more comfortable and more and more confident in the things that Eric wants to try and get done."
His offensive line has been a mess but, unlike Love in Green Bay, Howell does have the benefit of a rich receiving corps in Terry McLaurin, Jahan Dotson, Curtis Samuel and Logan Thomas.
Theismann believes this group rivals any in the NFL.
"Watching Sam throw the last two, three weeks, you see a more decisive individual," Theismann says. "He's getting the ball out of his hands. He's anticipating more. When you have a really strong arm, you tend to wait a little bit because you know you can get it in. Guys that didn't have the big arms, the only thing we could get done is get it out quick enough so that it would get to a hole when the receiver got to the hole. And I think Sam's doing a terrific job.
"I love his toughness. I love the way the kid plays the game. And from a pure quarterback standpoint, he's doing a lot of things well, and he's continuing to get better."
Last week, Howell completed passes to nine different receivers in a 20-17 win in Foxborough.
Against a coach who has historically embarrassed first-year QBs, Bill Belichick, he calmly threw for 325 yards and a TD. He's visibly less… and less… and less rattled each week. Take this third-and-7 blitz. The Patriots crowded eight defenders near the line, sent six and Howell bought just enough time to sling a 26-yard strike to Byron Pringle across his body. The exemplary "make shit happen" throw Brett Favre detailed last week.
With 1:46 left in the first half — on third and 23 — Howell ran for 24 yards. At least five defenders should've tackled him.
There are still bad moments. This drive ended in an end-zone pick. But Howell answered again. His deep-ball accuracy was a strength at North Carolina and, clearly, a strength in the pros. He hit Dotson for a gorgeous 33-yard score in the second half.
Noting the true "pounding," the "beating" Howell has taken this season, Theismann sees linemen always helping his QB up off the dirt. Always a great sign to him. Through all of his years as a broadcaster and a fan of the sport, he's seen many linemen let their QB sit on the ground. ("A scary proposition," he adds.) Howell is winning over both this locker room and his hard-driving coordinator.
Other coaches in other cities would reprimand that throw to Pringle. Tell Howell in the film room to never try that again.
Not the OC who coached Mahomes in KC.
"Just like in life. Things happen in life," Bieniemy said at this midweek presser. "In this game, if you've been around it long enough, sometimes plays break down. And when those plays break down great things can happen if you continue to play. I thought our guys did a great job of continuing to play. Sam kept his feet alive. Pringle kept the route alive. And when you're doing that, that's when the chemistry starts to develop. So you're seeing the connections that we're making. Not just because of the X's and O's we're designing but the fact that we're understanding that, if you work at it, guess what? Great things will come."
There wasn't No! No! No! dread in the pit of Bieniemy's stomach when Howell began to fling that pass across his body. He lost that "scared feeling" years ago with Mahomes. And back when most observers thought Washington was nuts for thinking Howell was a starting QB, he says he did his homework. A few of his closest friends in the business are coaches at North Carolina. Guys like Natrone Means and Tim Cross wouldn't BS him. Their praise is now coming to life.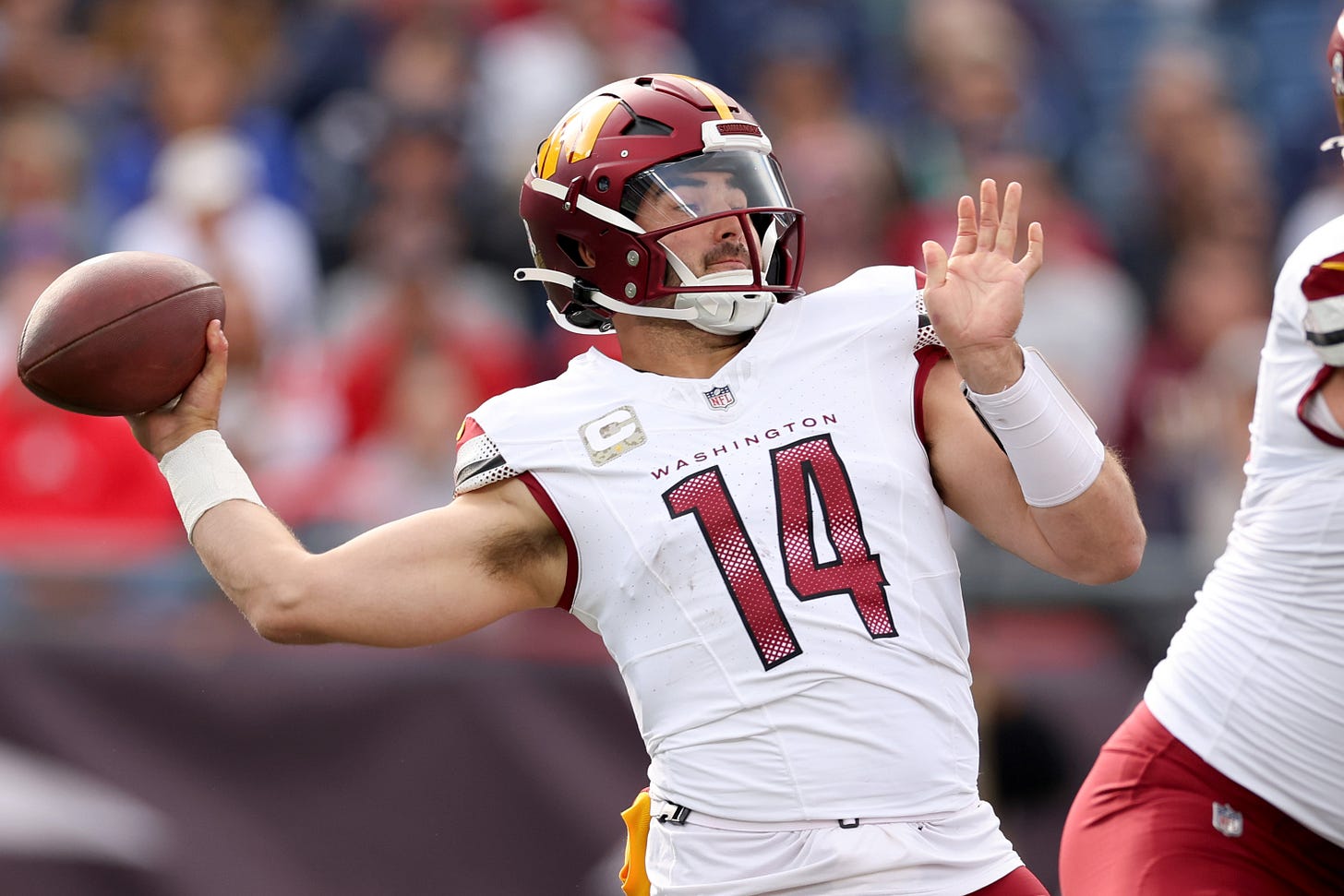 Two years into Howell's rise at UNC, the mockers pegged him as a future No. 1 overall pick. Then he lost two receivers and two running backs to the NFL, his passing numbers dipped and the Tar Heels went 6-7. Even then, the 6-foot, 224-pounder threw himself into the run game. Gained 828 yards and 11 touchdowns, absorbing a ton of contact between the tackles.
His draft stock might've cratered, but not his swagger.
One week before the draft, Howell said the following to Go Long:
"My three years of film at North Carolina speak for itself. I have no limitations athletically. I can make any throw on the field, and I can use my legs as a weapon in the running game. Mentally, I can master any playbook any coordinator would want to run. There would be no limitations with where that coordinator would want to go with that system. And I think my ability to rally a team and get a group of guys going and all working towards one goal is one of my strengths. I truly believe I do that better than anyone."
And…
"There were so many times we came back from being down. It made me who I am today."
And…
"To be the greatest who ever played the game, that's truly what I want to accomplish in my life. And what I can accomplish."
The NFL basically looked at Howell as if he was LaVar Ball. In what was widely skewered as one of the worst quarterback drafts of a generation, Howell was drafted behind Kenny Pickett (Steelers, 20th overall), Ridder (Falcons, 74th), Malik Willis (Titans, 86th), Matt Corral (Panthers, 94th) and even Bailey Zappe (Patriots, 137th). Scouts and coaches alike couldn't get past his dimensions. One scout called Howell "just another short quarterback who's thick and got an OK arm." Time will tell. They may still be correct. But the draft-day plunge sure perplexed Anthony Boone, the former Duke quarterback who has been training Howell since ninth grade.
Boone warned back then that the media was overhyping one-hit-wonder quarterbacks.
Sitting beside Howell all three days of that draft, Boone didn't sense that the quarterback's confidence was deterred at all. On the contrary, Howell reminded himself that Brady fell to the sixth. If he wanted to be the GOAT, hey, the fifth round wasn't all that bad.
"When he says he wants to be the best ever, he really means it," Boone says. "He's going to do whatever he can to get better each and every week. Each and every year. That was a focus for him in college and it's going to be a focus for him at the next level. This kid's been working this way since he was 13 years old."  
Height has not been a concern yet.
Nor did Howell expect height to ever be a concern. He planned to attack each play like Drew Brees in that he'd have "a plan" before the ball is even snapped. He loved how Brees was always "on time," always knew exactly where he wanted to throw.
So, what did people miss? Boone believes the only way to appreciate Howell's ability to lead an offense is to be around him for an extended period of time. A first impression isn't enough. One conversation doesn't suffice. But after a couple months, he says, "You're like, 'Damn, this is different. He's first one in, the last one out. He's always watching a lot of film. He's there late nights. You can physically see that this dude is putting in the work off the field when there's no cameras on him. There's no, 'Let me do this for social media.'"
Through March and April, Willis' highlights at Liberty had ESPN analysts going bananas at the telestrator. Some quarterbacks are made for the pre-draft hype machine. In play style, in personality, Howell was not.
Boone also knew Howell was different because of his upbringing. The QB grew up a half-hour from Charlotte and his friends came from a wide variety of ethnic backgrounds. He hasn't been incubated or pampered, instead witnessing far too many kids swallowed up by their surroundings. Arrested too soon.
"He's seen a lot of different lifestyles that most quarterbacks aren't accustomed to," explains Boone, who runs QB Country. "That's another thing that people probably don't know about Sam. Growing up, he was in the minority. He really considers himself one of the ones that made it out of a situation. There's obviously worse situations out there, but it wasn't the high-end fancy cars and affluent families. It was more of your Section 8 reduced lunches type of crowd."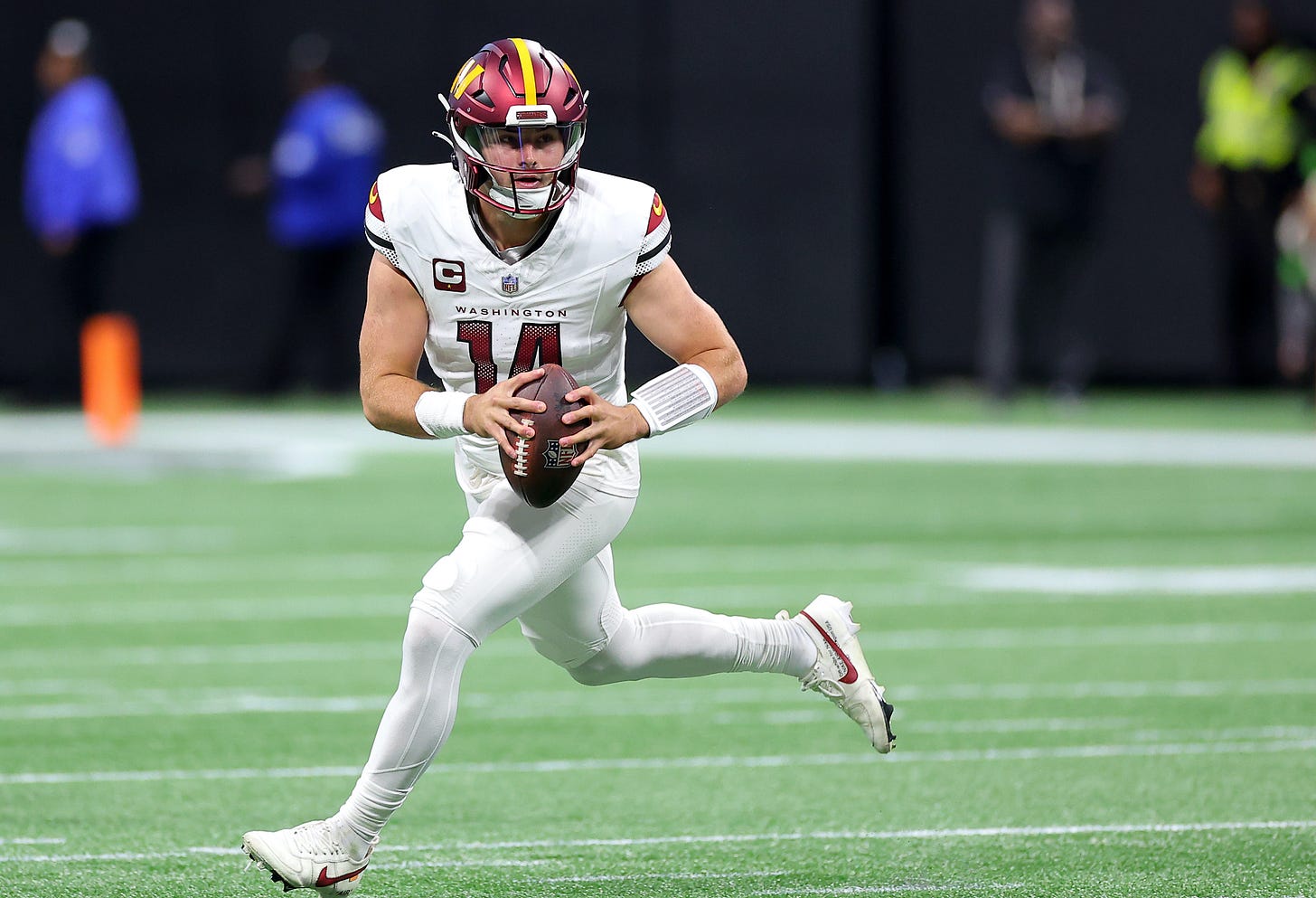 If Sam Howell Inc. was stock, it'd be as volatile as it gets 2021 to 2022 to 2023 — from sterling prospect to dismissed backup to potential face of the Washington Commanders. He doesn't publicly discuss the fact that he was the sixth quarterback drafted, but Boone knows it's an intrinsic motivator and that Howell would love nothing more than to stick it to all of the teams that passed him over. This latest win in Foxborough was sweet. And to Boone, the QB's lone appearance as a rookie in 2022 was a crucial first step. In that finale vs. Dallas, Howell only completed 11 of 19 passes, but scored two touchdowns in an upset win.
He forced the Commanders to view him in a new light.  
Adds Boone: "I've said it before and I'll say it again: He's going to be one of the steals of the draft."
The two still talk all the time — FaceTime, text, phone calls. Back in college, Boone got into the habit of texting Howell the day of every game. Usually, he told him to end each drive with a kick. The words of encouragement continue in the pros. Oh, that loss to the Bills was ugly enough to bury any young quarterback for good. Four interceptions. Nine sacks. Three points.  Even the account "Freezing Cold Takes" decided to retweet our story in mockery. Their conversation after this game? Honestly, it wasn't much different than chatting with Howell after he lit the defending NFC Champions up for 397 yards and four touchdowns.
Both were losses. So, he took both hard.
Boone describes Howell as a 23-year-old who "takes ownership" of everything and is only obsessed with the bottom line: Winning.
This obsession, he's sure, is winning over teammates.
Gradually, he's certain, outsiders will realize Howell is "special."
"He's not that glorious 6-5 guy that runs a 4.4," Boone says, "but he's locked in. He's dialed in. Everything is clean. Everything is perfect. He walks the walk, he talks the talk, he's confident as hell. And once you really study the nuts and bolts, it's hard not to put all your faith in him. This dude is going to get it done."
Life is about to get much tougher for Sam Howell these final eight games. Defensive minds now have a full catalog of Howell's tendencies. This week, the Seattle Seahawks are no doubt eager to bounce back from their thrashing of a loss to Baltimore.
Boone fully expects Howell to be ready. To counter.
"One thing I'm 100 percent certain of," Boone says, "is that Sam's going to also study his own tendencies and know where he can manipulate. He's very cerebral. He's more cerebral than people gave him credit for, but I think people are quickly figuring out that this guy has a high ceiling. Obviously, he's a thrower. He can create. He's not a blazer, but he's still scrambling. Obviously, he's still the most-hit quarterback in the league, so there's things that he's probably got to grow from a protection standpoint, from just a movement standpoint to where he can create more throws and get the ball out of his hand. He's going to be very, very, very, very critical on himself on that. That's the reason why he's going to stick around this league for a long time and potentially be the franchise guy for the Washington Commanders.
"I absolutely believe that he could be that guy, and I think the city is probably going to start to see that as well."
With Snyder out, locals are dying to believe in the future. For years, FedEx Field filled up with fans of the opposing team. This franchise with the ever-changing name was blowing in the wind scandal to scandal. Snyder may be a rich man, but he'll go down as one of the worst owners in sports history. Under his tyranny, football itself has often felt inconsequential. No wonder Theismann feels a completely new excitement around this team. The Redskin great chatted a few times with Howell through training camp and, most recently, saw him last Friday. He tries to impart a word of advice here and there.
Each time they chat, he's starting to see everything Boone describes. There's a work ethic behind that "greatest ever" goal.
"The big thing is I don't care how cocky you think you are," Theismann says. "I don't care how good you think you are. Do you have a work ethic that will give you an opportunity to be what you believe you can be?"
So far, the answer is yes.
His job interview continues. Every throw matters.
Fixing everything Snyder left behind will take years — this culture was toxic — but when it comes to everything taking place on the field, the Washington Commanders might've already solved the most important question.
As a reminder, you can get all stories, podcasts and discussion threads at GoLongTD.com inside the new-and-improved Substack app. Download today: