Discover more from Go Long
Humanizing pro football journalism. Profiles, Q&As, podcasts and penetrating deep dives that capture the spirit of the sport.
Over 16,000 subscribers
The perennially disrespected Jared Goff
Scouts weren't thrilled about him. Neither were the Rams after a while. Bob McGinn opens up his notebook on the Detroit Lions quarterback.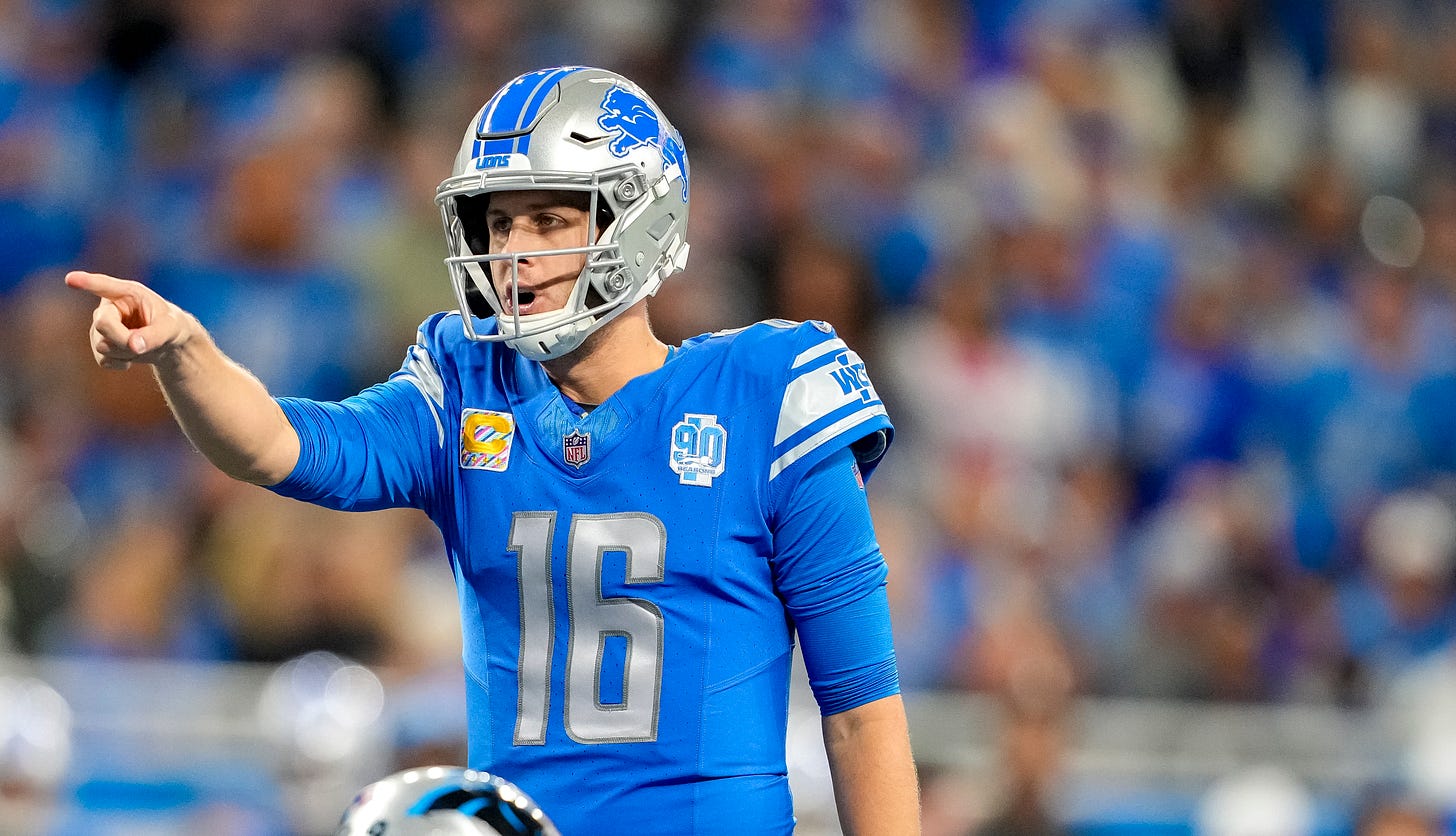 This is the fourth in a series of stories looking back at active players and their current situation vis a vis what it was entering the NFL draft. The comments from personnel men were made to me in the months leading up to the draft for my NFL Draft Series, which dates to 1985. Scouting football prospects is an inexact science, especially when it comes to off-the-field considerations. It has been said that no two evaluators view a player exactly the same way.
Detroit Lions fans weren't the only ones that didn't expect much from Jared Goff. NFL executives in personnel didn't, either.
In the leadup to the NFL draft in 2016, I polled 19 personnel men asking them to name the best player in the draft regardless of position.
Goff, the quarterback from Cal, would go to the Los Angeles Rams as the No. 1 pick in the draft despite the fact he didn't manage a single vote in the best-player-in-the-draft poll.
Goff, just 14-23 as a three-year starter for the woebegone Golden Bears, had success and played in the Super Bowl during his five seasons in Tinsel Town. But the Rams desired better and traded for Matthew Stafford, dispatching Goff to the deplorable franchise in Detroit, where fans couldn't have been more indifferent about their new quarterback.
Today, Goff has gained a whole new level of appreciation and respect. Celebrating his 29th birthday Saturday, Goff is playing the best ball of his career as the unassuming leader of the Lions' effective, explosive and exciting offense.
Ford Field was on fire during the first three games; there even was considerable frenzy in the stands for the two home exhibitions. The Lions' impossible dream — playing in a Super Bowl — no longer seems impossible, and many of Goff's detractors in Detroit now view quarterback as a position of strength.
---
Go Long is completely independent because of you. Thank you for joining our community. We cover pro football through a longform lens.
---
THE BASICS
Height: 6-4. Weight: 217. Age: 28. From: Novato, Calif.
40-yard dash: 4.78. Vertical jump: 27. Broad jump: 9-2. Short shuttle: 4.47. Three-cone: 7.17. Wonderlic score: 34. Arms: 32 3/4. Hands: 9.
Enrolled at Cal early in the spring of 2013 and became an immediate starter. His NFL passer ratings were 83.3 as a freshman, 103.5 as a sophomore and 109.8 as a junior before he declared a year early. His career mark was 98.8. Another Cal product, Aaron Rodgers, posted a two-year rating of 102.9 from 2003-'04. Cal's Steve Bartkowski, a strong-armed pocket passer, was the first pick overall by Atlanta in 1975.
Goff's rushing statistics (including sacks) were 170 for minus-114 yards and one touchdown. He also fumbled 24 times.
Under coach Sonny Dykes, the Golden Bears were 1-11 in 2013, 5-7 in 2014 and 8-5 in 2015. Goff was 7-20 against Pacific-12 Conference teams, 7-3 against nonconference foes.
He set 26 school records. He also made all-conference as a junior.
His father, Jerry, played baseball at Cal before catching 90 games for six teams in the major leagues from 1990-'96. His career batting average was .215.
DRAFT NIGHT
The Rams, having departed St. Louis in January 2016 for a return to LA, were looking for a fresh start after posting merely one winning season in the last 14 following a great early run in the Midwest.
Two weeks before the draft, the management team of coach Jeff Fisher, GM Les Snead and owner Stan Kroenke traded five draft choices (a one, two two's and two three's) to Tennessee for the right to move from No. 15 to No. 1. The Titans kicked in fourth- and sixth-round picks.
Back on the West Coast, the Rams had no intention of sticking with incumbents Nick Foles, Case Keenum or Sean Mannion. There was debate that their choice would be Goff or quarterback Carson Wentz of North Dakota State, but after the pick was made Kroenke acknowledged to the Los Angeles Times that Goff was their man all along.
"I made a point of sitting next to Jared," Kroenke said of having dinner with Goff during his pre-draft visit to LA. "I wanted to get a sense of this kid, in a sense Jared was in the hot seat. He was very calm, very collected, very mature, very intelligent, not awed by LA, frankly. He had a confidence to him. You could tell that."
If the Rams were sold on Goff, the rest of the league was not. In my pre-draft poll of 17 scouts asking for their top five quarterbacks in order, Goff edged Wentz in total points, 73 to 71 ½, and in first-place votes, 8-7. The only other quarterbacks with more than 10 points were Memphis' Paxton Lynch (52, one first) and Michigan State's Connor Cook (29, one).
As for the best-player-regardless-of-position poll, the 19 votes were cast this way: cornerback Jalen Ramsey (seven), tackle Laremy Tunsil (3 ½), linebacker Myles Jack (2 ½), defensive end Joey Bosa (two), linebacker Jaylon Smith (two) and Wentz (two).
"We didn't want to just come home, we want to come home and contend – consistently," said Snead after the selection. "This was the right thing to do at the right time for us."
Fisher, who would be fired after 13 games of Goff's rookie season, said, "This is historic, monumental, a big deal for this franchise to be in position where we can have our pick of a franchise quarterback and look forward to years to come with a player who is not only talented but is a great person. He has the personality to embrace the market, to be the face of the franchise. He also understands it's not up to him. It's collectively up to the rest of the team."
Goff, after Snead's wife said at a rally that he looked like actor Ryan Gosling, said: "I've heard that. It's a good guy to be compared to, I guess."
NFL CAREER
As a rookie, Goff apprenticed under Keenum for nine games before starting and going winless in the last seven. His passer rating was a career-low 63.6.
Improvement was evidently immediately in 2017, when his passer rating of 100.5 ranked fifth, and in 2018, when his mark of 101.1 ranked eighth. The first and only time Goff was voted to the Pro Bowl was 2018.
In 2017, the third-seeded Rams (11-5) were upset by sixth-seeded Atlanta in their NFC playoff opener before they reached the Super Bowl in 2018 after a 13-3 regular season and post-season victories over Dallas and New Orleans. The 13-3 loss to New England in the 53rd Super Bowl left Goff with a passer rating of just 71.3 in his three playoff games of 2018.
The Rams slipped to 9-7 in 2019 just as Goff fell to 22nd in passer rating with 86.5. In 2020, the Rams finished 10-6 but Goff's rating of 90.0 ranked 23rd.
Late in 2020, Goff suffered a broken right thumb. John Wolford, his backup, started the regular-season finale and a wild-card playoff victory in Seattle. When Wolford suffered a neck injury late in the first quarter against the Seahawks Goff took over and guided the Rams to a 30-20 victory. Wolford then was ruled out late in the week before a divisional game in Green Bay. Had Wolford not been injured, it was apparent that coach Sean McVay would have started him ahead of Goff.
Goff compiled a rating of 100.7 in the two playoff games (the Packers won, 32-18). Judging from comments made by McVay and Snead in the aftermath of Green Bay, they were looking to replace Goff.
In the end, the Rams acquired the 33-year-old Stafford in exchange for a third-round pick in 2021, first-round picks in 2022 and '23 and Goff.
"There's a time (when) somebody needs to ignite this place," Snead said on Colin Cowherd's podcast in August 2021. "We had a chance to acquire a quarterback with unique skills. Jared has some elite QB skills. The unique part in Matt's case was he ran a pro-style offense since high school. He meshed with Sean and where we were at.
"Jared Goff's a great human being. He might … can get to where Matt's at. That's just gonna take time. That Matt had and he (Goff) didn't. It's a very, very tough decision when you do that."
Led by Stafford's outstanding performance, the Rams accomplished the objective of the blockbuster trade and won the Super Bowl. McVay expressed regret along the way for what he said was his failure to communicate sooner with Goff regarding his pursuit of Stafford.
"I will not make those same mistakes again," McVay told Mike Silver on his OpenMike Podcast. "The thing that shows what a stud and class act he really is … one of the best text messages I got after the Super Bowl was from Jared Goff."
The new brain trust in Detroit was led by GM Brad Holmes and Dan Campbell. Holmes came from the Rams, and often expressed belief in Goff as he took over a team that had gone 8-23-1 under Matt Patricia and Darrell Bevell in the two preceding seasons. After a 0-9-1 start in 2021 the Lions finished 3-13-1; Goff posted a passer rating of 91.5 that ranked 17th.
Last season, the Lions recovered from another awful start (1-6) to finish 9-8. Goff, with a passer rating of 99.3 that ranked seventh, entered 2023 with a coach telling ESPN that he "would love to" have him as the team's long-term quarterback.
"There's nothing that tells me he can't be," Campbell said in mid-August. "When you have a quarterback you believe in, why would you ever move on? I get there are other circumstances, but it's hard to find quarterbacks in this league. We've got a guy we can win with right now. We're fortunate to have him; that's how I see it."
With Goff operating the creative attack of coordinator Ben Johnson the Lions are off to a 4-1 start as they seek their first division title in 30 years. Goff ranks sixth in passer rating (104.4), his completion percentage (69.8) is the best of his career and he's one of only five starting quarterbacks in the NFL that has yet to fumble.
His career passer rating of 93.3 ranks 20th all-time. Just in front of him are Kurt Warner (93.7), Matt Ryan (93.6) and Ben Roethlisberger (93.5). Just behind him is Josh Allen (93.1).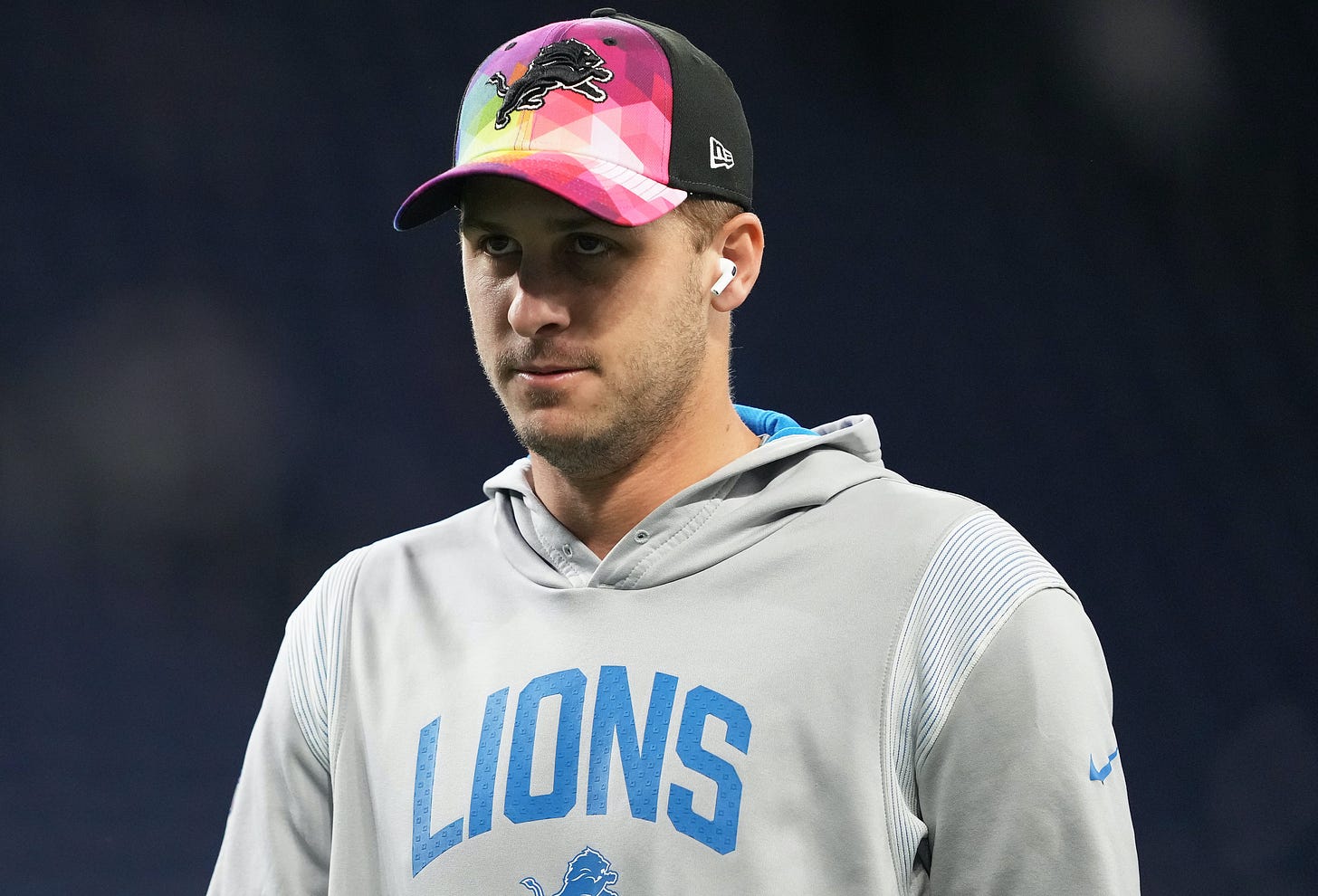 WHAT SCOUTS SAID BEFORE THE DRAFT
AFC scout: "In terms of arm talent, he's like (Jay) Cutler. Skinny kid. Gets hit a bunch. He doesn't see everything. Accuracy is off at times, but he's talented. He can really spin it. Really good feet."
NFC scout: "You see the accuracy. I just thought there was something missing. In a really big situation, you weren't surprised to see Peyton Manning make a big play. In the big situation, I thought this guy couldn't do it all by himself."
NFC scout: "The guy's won-lost record is atrocious. He (couldn't) win there and you want him to be the face of your franchise? I just don't see him having that winner quality about him. He's got an arm but it's not great. They do a lot of that dink-and-dunk offense, a lot of that false production. He gets rattled by pressure. Everything has kind of got to be under control for him."
AFC scout: "He can be real good. He had one bad game that they want to put a noose around his neck. Utah, and he was bad. But he's a quick-release guy. He runs out of a gun (shotgun offense), and that's always an issue."
AFC scout: "Extremely accurate. Amazing feet, pocket presence. Very similar to (Tom) Brady in that way. Strong arm. Can make all the throws … and with very good accuracy. Shortcomings? He weighs more now (spring 2016) than when he was playing (fall 2015) but he has such a slight build. He needs to get stronger. I'm sure he will once he gets in the league. And having played in that spread system he will need to take snaps under center and make adjustments."
NFC scout: "He'll go from No. 1 to No. 6 or No. 7, and he's just a guy, really. He lacks innate natural accuracy and arm strength. Accuracy is the most important thing."
AFC scout: "He's from No. 6 to No. 10 for me of the (top) players in the draft. I do think he's really accurate. He's improved a lot. As a freshman he wasn't that good. He's confident, productive and accurate. Their offensive line was awful, yet he hung in there. Mechanically, he's good. He's got a quick release. The only negative would be his frame now. He's 215 but kind of a slender type. His decision-making was excellent except for Utah when he had like five picks."
NFC scout: "I like Goff. I don't love Goff. We worked him out yesterday. He's got a good arm but (Paxton) Lynch has the best arm. It ain't even close."
NFC scout: "He was surrounded by nothing. His best running back (Daniel Lasco) had a hip and was hurt all year. The receiver (Kenny Lawler) has all kind of talent and he's a nut job. The rest of them are pedestrian. He might be the most ready. Thing I don't like is his slender build. He's pretty good. I'd be nervous taking him above 10. Does he have a great arm? No, but it's good enough."
NFC scout: "He can throw. He's a between-the-hash guy. He's got a better than average arm."
AFC scout: "He's got a quick arm, he's very mobile, he's got anticipation. Does he drive the ball? No. The (small) hands would never preclude me from drafting the guy if there's not a lot separating them (top quarterbacks). With him, it's hand size and coming from that offense."
NFC scout: "He has a hard time throwing in the elements and with a wet ball."
AFC scout: "He has everything you look for. He's got feet, eyes, awareness, patience and knows how to make plays."
AFC scout: "He needs a system that fits him. West Coast, get the ball out quick. Like him. He's got size, arm strength. Just not a consistent performer."
WHAT THEY'RE SAYING NOW
Buccaneers quarterback Baker Mayfield: "Coming from somebody that needed a fresh start as well, Jared's a stud. I think he's playing really well. You can tell his leadership – all the things why he got chosen so high. He's truly showing that now. Not every fit is perfect and, for him, I think you see his confidence grow."
Lions GM Brad Holmes: "Very, very proud of Jared. I never thought of him of just a bridge or stopgap or whatever just because I was all around the success he had early in his career in LA. It seems like when he got here when the trade was made all that success was forgotten about. It was just this narrative that he was just a bridge. I always thought that was a lazy narrative."
Larry Foote, the Buccaneers' passing game-coordinator and inside linebackers coach: "His only bad year, in my opinion, was probably his rookie year. With (Sean) in his second year, he just took off. He's a good, savvy quarterback. What's unique about him, I put him in that group with (Tom) Brady and (Peyton) Manning as far as the play-action – they do a good job of selling it. As a linebacker, that can be tricky because it looks the same. He's making every throw, and he's a No. 1 pick."
Goff: "Even if I'm playing great, if I'm playing poorly, there will always be haters and lovers. Ignore 'em all and keep trying to get better."
BOTTOM LINE
Goff was perceived by many in southeast Michigan as little more than a Band-Aid. That looked to be the case until mid-2022, or before he stopped turning the over and started seeing the field better and delivering strikes to a corps of skill-position players that has been just average over his 2 ½ seasons.
The Lions are high on rookie Hendon Hooker, their third-round draft choice from Tennessee who has yet to practice as a professional because of the torn anterior cruciate ligament that required reconstructive surgery about 10 months ago.
Presently, Goff ranks 15th among quarterbacks in average salary per year at $33.5 million. His contract expires after the 2024 season.
If things continue as they are, and in the unpredictable NFL they never do, the Lions will be re-signing Goff to a lucrative extension.
Previous pieces from McGinn's series…
And make sure you sift through the "Draft" archives at GoLongTD.com to read all parts of McGinn's 2023 and 2022 draft series.